THREE GENERATIONS OF INNOVATION
An illustrious past shines a light on our bright future ahead.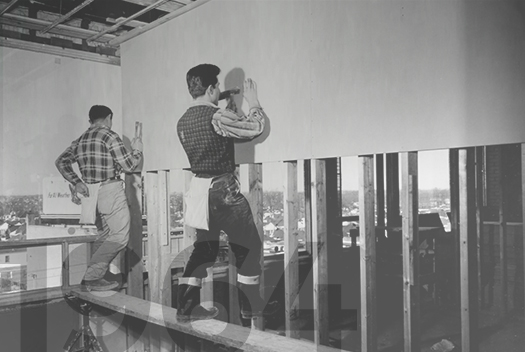 Our story started 58 years ago when Tony Rinomato emigrated from a small village in Italy to Toronto at the age of 17. With very little money and even fewer opportunities available to him as an experienced tailor, he ended up embarking on a career in construction as one of Canada's first drywall tradesmen in 1958. Tony soon distinguished himself through his fine workmanship, service excellence and product innovation. He then founded Torino Drywall, one of Canada's first drywall companies, in 1964.
Tony's daughter, Elem, was inspired by her father's tireless work ethic and keen business instincts; in the 1990s she took the reins of Torino Drywall, expanded the firm's client base even further and today continues to cultivate the exceptional client relationships Torino Drywall is known for across the industry.
Tony's legacy of superior-quality craftsmanship additionally lives on through the Rinomato family's second and third generations, Ernie, TJ and Anthony, who have propelled the company's successful growth in major markets across Canada.
Today, our company still approaches every job as though it were our first, committing ourselves 100% toward executing every last detail to perfection and providing exemplary customer service.
WE SEE DRYWALL
DIFFERENTLY
Back in the early days of drywall installation, applicators would use nails to secure drywall to the framing. Torino Drywall went against the current and used screws, a practice that has become standard across the drywall industry.
Drywall sheets used to come with square edges, which created a little lump at the joints. Torino Drywall approached Canadian Gypsum (now CGC) to develop drywall sheets with rounded edges to offset the lump. Thanks to our entrepreneurial vision, drywall continues to be manufactured with rounded edges to this very day.